The current departmental policy on homework asks that all S1- S3 students are involved in singular homework tasks associated with the unit of work they are working on.
In addition to this, students create a visual and textual Art & Design historical timeline (concertina book), to support and promote further understanding of the artworks and artists they study in class. Researching the below information helps students to understand and strengthen the work they create in class and make them able to identify art and design works when out of school, giving a greater appreciation of the world around them.
Art History Timeline Concertina book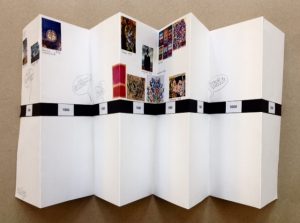 Instructions:
Students will research the periods in history below and creatively fill their timeline with important and relevant information, building their knowledge of art history.
For each art movement students should write the:
Date of that period
Names of important artist(s)
Style of their work
Example(s) of their work
Get creative – students can draw or paint the work by that artist, write the information in various coloured pens – make it inspiring to look at. If students have no access to a computer at home, homework can be carried out using Library or Art Dept. computers. Students do not have to print anything, if they have no access to a printer, we would love to see hand drawn visual imagery.
Please find the below information on the Art movements to be studied, (your teacher will tell you the time-frame we wish the work to be completed by). Students have also been given instruction sheets on how to make their book.
• Impressionism – Monet
• Post Impressionism – Vincent Van Gogh
• Fauvism – Matisse
• Cubism – Picasso
• Surrealism – Salvador Dali / Magritte
• Art Deco – The Scottish Colourists
• Abstract Expressionism – Rothko / Pollock
• Pop Art – Paolozzi / Warhol / Lichtenstein
• Op Art – Bridget Riley
• Post Modernism – Damien Hirst
• Arts and Craft Movement – William Morris
• Art Nouveau – Lalique
• Bauhaus – Marian Brandt
• Art Deco – Coco Chanel
• 1950's – Arne Jacobson
• 1960's – Mary Quant / Verner Panton
• 1970's – Manolo Blahnik
• Punk – Vivienne Westwood
• Post Modernism – Alexander McQueen
For inspiration on Art & Design timelines, please see our Pinterest board by clicking this link.
S1  Feedback and Festive Task
https://goo.gl/forms/sMP5smiolthAyLhp2
We also invite you to participate in an optional Festive Task.
We are looking to decorate the department Christmas tree and need new decorations.
If you would like to contribute to the tree please bring your hand crafted decoration along to your Art Class.