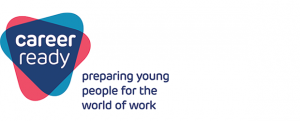 Career Ready,  objectives:
Increased employment chances for young people in the UK
In Scotland, the only place in the UK with comprehensive destination data, 97% of our 2013/14 students went on to a positive destination, of whom 25% went into work or work-based training, 54% are at university and 21% are in further education. Our students develop employability skills, but also demonstrate drive, determination and ambition, which makes them stand out when applying to potential employers.
Increased number of young people in the UK who are ready for the world of work
By working with employers to prepare young people for work, we can make sure that Career Ready students have the skills that employers are looking for in new recruits. By working successfully with educators and employers, we can continue to meet future employment needs.
Increased number of sustainable education-business relationships, contributing to the delivery of high quality careers and employability work in education
Career Ready encourages employer involvement across the schools and colleges running our programmes, which forges closer ties with local businesses. The resulting professional networks that Career Ready students are able to take with them enhance their career opportunities.
We want young people to not simply have jobs, but have careers. With committed educators, the generosity of employer volunteers giving their time and knowledge, and our dedicated students, we believe we can achieve that.