A huge well done to senior pupil Ethan Brown, who completed his full First Aid at Work Qualification during study leave with Mini First Aid.
Ethan was originally due to complete just a one day course however his enthusiasm impressed the trainer and he was invited to complete the full qualification.
We are really proud of Ethan for working hard and seeking out opportunities to gain extra skills and qualifications that will help him in his future career!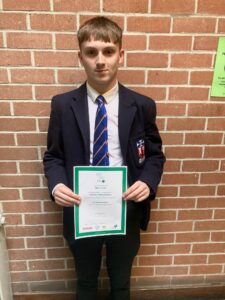 A group of our S2 & S3 pupils travelled to Lochside Academy who were hosting a Collaborative project event. The event was organised by the Royal Academy of Engineering Connecting STEM Teachers Programme with activities provided by the Army Outreach Team.
Pupils were involved in the elite skills activities run by the Army where pupils were split up and working with pupils from another two schools. There were various problem solving tasks using there STEM kits.
All pupils were given a careers presentation at the end which highlighted the various career routes in the British Army. They also highlighted how the skills they had used during the activities can be used more widely.