We are proud to announce that Aberdeen Grammar School are now at the beginning of their journey to achieve the LGBT Youth Scotland Charter for Schools.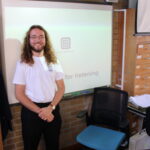 Former Pupil Struan Morrison came back to AGS to deliver a presentation on his Architecture course and life at Strathclyde University to a group of our senior Graphic Communication & Art & Design pupils.
Struan who left AGS in 2019, explained what architecture is and the three units of study he has been learning about – Architectural Design, Urban Design & Landscape Architecture. As well as his studies in Poland and business he has set up.
He explained and showed pupils through his presentation how the skills learned in the subjects he took at school have helped him in the course and how he's progressed these into his 5th year of study. He explained the entry requirements and current university's teaching architecture as well as associated jobs linked to the course that he can be employed in at the end of the course.
Thank you to Struan for coming back to AGS to speak to our current pupils!
https://www.instagram.com/struan.morrison_arch/?hl=en